Fédération des Editeurs d'Informatique Médicale et Paramédicale Ambulatoire (FEIMA)
Type of actor
Digital Industry Federation
Fields of intervention
Health / Social care / Social
Intervention zone
National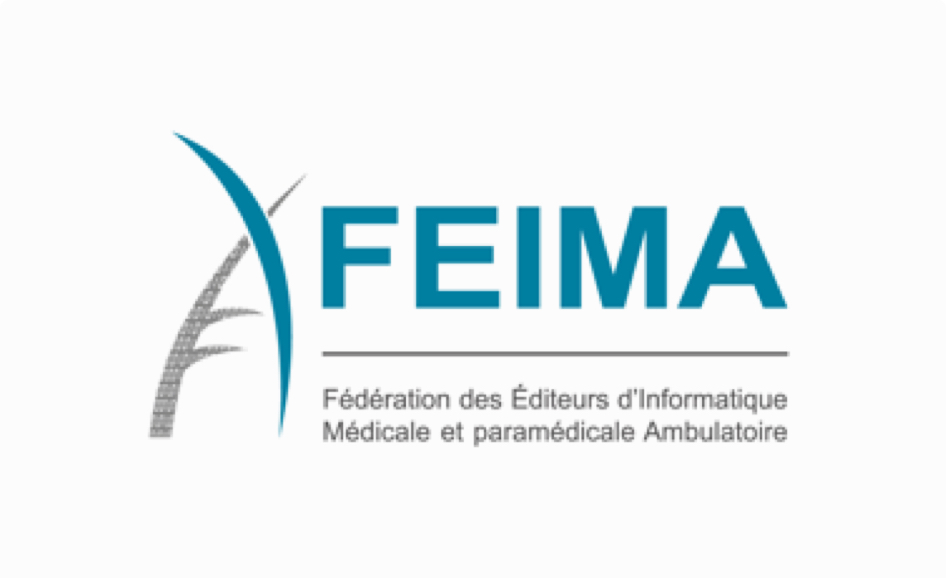 What is FEIMA?
The FEIMA is made up of the largest software publishers in the outpatient sector. The solutions and support services they provide equip 300,000 healthcare professionals in France (2 million worldwide): General practitioners and specialists, dentists, pharmacists, therapists, multi-professional organisations and home healthcare providers (more than 70% of the French outpatient market).
As leading players in the industry (more than 2,500 employees in France and more than 12,000 worldwide), FEIMA's members are a key driver of job creation, value and innovation in the eHealth market in France and Europe.
Go to the FEIMA website
Missions
Design, deployment and support of digital services dedicated to patients and healthcare professionals: Access to care services (appointments, telemedicine, third-party payment), billing and electronic data flow services, care and pathway coordination services, decision support services, personalised prevention services, health data exchange and sharing services (DMP, MSS), interoperability services, transforming relationships between patients and healthcare professionals.
FEIMA's publishers are constantly working on the development of innovative services, with a view to adapting them to the needs of healthcare professionals and integrating them into their daily work environment.

I have a project, how can contacting the FEIMA be of use to me?
As FEIMA brings together the main software publishers in the French outpatient sector, it can be used as an entry point to initiate contacts with publishers addressing a market segment likely to be of interest to the entrepreneur/innovator: Market potential, regulations, national digital projects, prospects for integrating new services into care offerings, etc.
Commercial agreements, equity investments, acquisitions
At what stage of my project should I contact them?
When drafting the company's strategic plan in order to qualify the market potential.
When designing a product that will interact with a software environment: Integration/architecture of services, interoperability
In the commercial development phase with a view to commercial agreements or potential equity investments or acquisitions
J'ai un projet, en quoi entrer en contact avec la FEIMA m'est utile ?
Pour envisager des accords commerciaux, des prises de participation ou des perspectives d'acquisition ;
Pour les perspectives d'intégration de services numériques à valeur ajoutée dans les logiciels métier des professionnels de santé ;
Pour garantir ancrage et pérennité de services innovants sur le marché ambulatoire.
​​​​​​​A quelle phase de mon projet entrer en contact ?
En phase d'élaboration du projet stratégique d'entreprise aux fins de qualification des potentialités marché.
En phase de conception de produit appelé à interagir avec un environnement logiciel : intégration/urbanisation de services, interopérabilité
En phase de développement commercial dans la perspective d'accords commerciaux ou de potentialités de prises de participation ou d'acquisition
Finance-t-elle des projets ?
Ressources accessibles
Dirigeants des entreprises adhérentes ;
Equipes de recherche et développement ;
Experts réglementations secteur ambulatoire ;
Experts interopérabilité ;
Experts sécurité.
Practical guide
Frequently asked questions about the FEIMA.
Who is the right person to contact?
Francis.mambrini@cgm.com and/or contact form on FEIMA website: www.feima.fr
The contact details (email + phone number) of the members of the board of directors (professional associations) are available on the Federation members page accessible at the website
Does the FEIMA charge for its services?
Membership in the Federation is subject to an annual fee
Can the FEIMA support my project individually?
Yes, with a view to commercial agreements or digital service integration projects with FEIMA member companies
127 Rue d'Aguesseau 92100 Boulogne-Billancourt