Numeum
Type of actor
Digital Industry Federation
Fields of intervention
Health / Social care / Social
Intervention zone
National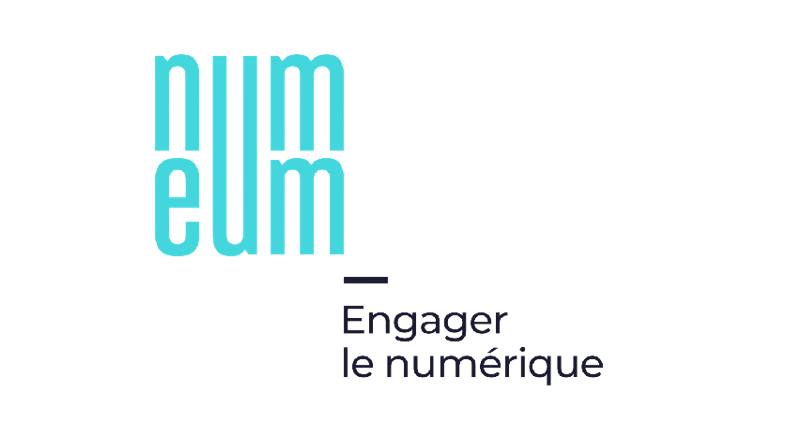 What is Numeum?
Numeum, born from the merger of Syntec Numérique and TECH IN France, is the professional organization of the digital ecosystem in France. It brings together digital services companies, software publishers, platforms and engineering and technology consulting companies. Numeum represents more than 2,300 member companies (of which 50% are regional members and 50% are startups and VSEs) that generate 85% of the sector's total revenue in France (more than €55 billion in revenue, 538,000 employees in the sector).
Go to the Numeum website
Missions
 Our actions : 
Promote our members, our businesses and defend their interests;
Embody the digital France in Europe;
Animate the digital ecosystem to promote synergies and innovation;
Strengthen our services to digital companies.
Our ambitions: 
Accompany our country in the generalization and democratization of digital training;
To act in the service of responsible digital technology for businesses, society, people and the planet.
 
I have a project, how can contacting Numeum help me ?
Numeum supports and represents all companies, from start-ups to large digital groups.
At what stage of my project should I make contact ?
You can join Numeum as soon as your company is created. The Startups program covers all areas of company development, not just financial aspects. This allows member startups to benefit from a number of negotiated services that provide an immediate return on contribution: free consultations with lawyers (labor law, digital law and tax law), insurance packages (professional liability, property damage and directors' liability), access to all events and publications (contractual guides, practical sheets on social issues, etc.), a monitoring tool, a hotline for legal, social and training issues, etc... (Learn more).  
Beyond these services dedicated to startups, Numeum also supports digital startups and SMEs through a specific positioning that complements the ecosystem. Indeed, the financing situation has never been so favorable to French tech startups. Numeum supports its members on this issue, but does not stop there. To contribute to this virtuous dynamic, we must now stimulate the acceleration levers necessary for the hypergrowth expected by investors. Numeum is therefore focusing on three main axes of support for startups:
Structuring the indirect marketing strategy with partners;
Accelerating international deployment;
Facilitating collaboration with large corporations.
Your company is already active in e-health ? By participating in the Health Committee's working groups, you can exchange information with your peers, get all the information you need about regulatory changes, ongoing consultations, programs and funding available to companies, and also contribute to the industry's positions and the defense of its interests. You will thus be able to benefit from a real support to your development and join the numerous member companies of this These companies reflect the diversity and richness of the digital health sector: size, profile, activity, etc... (Learn more).
Are you interested in going international but don't know how to go about it? To facilitate its members' efforts, Numeum also offers a range of dedicated services as part of its International Program. This program aims to identify, in a neutral and independent way, solution providers and put them in touch with Numeum members and their needs. In addition to this support, the program also offers an experience-sharing service (webinars, conferences, etc.), a monitoring service (delegations, trade shows, publications, learning expeditions, etc.), and the promotion of model companies
Would you like to join Numeum, access its services and integrate its network of over 2,300 member companies? Complete the online form to apply for membership and we will contact you.  
 
You will also benefit from all of Numeum's services (SVP social, legal, training), bodies and events. 
 
What is the link between Numeum and the project leaders?
Thématiques concernées
Financement ; 
Développement business ; 
International.
Ressources accessibles
Numeum propose à ses adhérents un accompagnement et des conditions préférentielles pour la mise en œuvre de leurs politiques d'innovation et de financement de l'innovation, notamment via le Crédit d'Impôt Recherche, le Crédit d'Impôt Innovation, la Jeune Entreprise Innovante, les financements publics (Régions, Etat, Europe) etc. ;
Numeum accompagne le développement des entreprises adhérentes à l'international, en les mettant en relation avec les organismes et dispositifs incontournables sur le sujet, en organisant des rencontres et des événements, et en mettant à disposition un dispositif de veille ciblée.
Finance-t-elle des projets ?
Lien avec les innovateurs et les entrepreneurs
Grâce à son réseau et à son programme Startups, Numeum prend trois missions en charge à destination des startups : leur donner accès à des services essentiels (pack assurances négociées, consultations gracieuses avec des avocats, complémentaire santé, financement de l'innovation, assistance téléphonique, accès à tous les événements et toutes les publications, etc.) ; les intégrer dans l'écosystème pour favoriser leur potentiel de développement, et les représenter en défendant leurs intérêts.
L'organisation professionnelle répond ainsi à leurs problématiques spécifiques en particulier en matière de structuration des réseaux de vente indirecte grâce aux partenaires commerciaux, de développement à l'international et de collaboration avec les grandes entreprises. Dans ces trois axes au service des startups, Numeum crée une dynamique collaborative, facilite le fléchage des informations, partage les bonnes pratiques et valorise les entreprises modèles (En savoir plus).
 
Practical guide
All the questions you need to ask about Numeum
Quel est le bon interlocuteur ?
Mike Fedida, chargé des programmes Startups et International - mfedida@numeum.fr 
Mariane Cimino, déléguée au numérique en santé, Commission Santé :  mcimino@numeum.fr
Les services de votre structure sont-ils payants ?
Adhésion annuelle en fonction du CA et de la taille de l'entreprise, qui donne accès à l'ensemble des services : SVP social, SVP juridique, événements, guides pratiques, etc.
Concernant le programme Startups, les entreprises qui répondent aux critères d'éligibilité (entreprise de moins de trois ans d'existence et de moins de 300 000 € de chiffre d'affaires annuel) peuvent bénéficier des services de Numeum pour une cotisation annuelle à hauteur de 200 €.
Votre structure peut-elle accompagner individuellement mon projet ? 
Non, en tant qu'organisation professionnelle, Numeum ne peut pas accompagner des projets individuels.
148 Boulevard Haussmann 75008 Paris