GIE SESAM-Vitale
Mission
Support / Regulation
Type of actor
Institutional player
Fields of intervention
Health / Social care
Intervention zone
National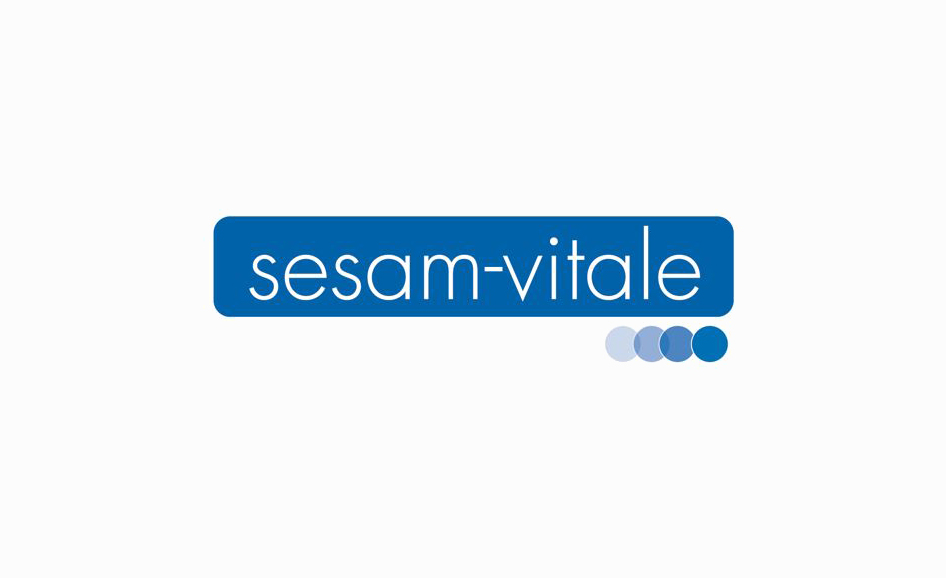 What is the GIE SESAM-Vitale?
SESAM-Vitale is an economic interest grouping at the heart of secure exchanges between healthcare professionals and facilities and compulsory and supplemental health insurance organisations.
An expert in Information Systems for Healthcare Professionals, it participates in work to study exchanges using new digital services and to make them secure, facilitates the deployment of innovative solutions by supporting the community of software publishers, and ensures their proper integration into health professionals' information systems.
Together with the Health Insurance Fund, it is at the forefront of the development of solutions that fit into the eHealth strategy: the Carte Vitale app, the Shared Medical File (DMP), e-prescriptions, and telemedicine.
Go to the GIE SESAM-Vitale website
Missions
The GIE SESAM-Vitale has three main missions:
Design and implement the digital identity resources needed to authenticate insured persons (Carte Vitale card and its smartphone app)
Guarantee the coherent integration of Health Insurance Fund services into healthcare professionals' information systems and accelerate their deployment via manufacturers acting as solution providers
Operate, control and supervise electronic transmissions between healthcare professionals and the Health Insurance Fund with a very high level of uptime

I have a project, how can contacting the GIE SESAM-Vitale be of use to me?
As a key contact for manufacturers supplying solutions to healthcare professionals, the GIE SESAM-Vitale supports you on a daily basis, as a player in eHealth, to maintain existing solutions and develop new ones.
The GIE SESAM-Vitale currently supports nearly 600 manufacturers. Initially focused on billing and teleservices, these players are now offering new services that are aimed not only at healthcare professionals but also at insured/patients, particularly in the form of mobile apps or connected objects.

At what stage of my project should I contact them?
As soon as the project is launched, the GIE SESAM-Vitale offers guidance: Introduction to the ecosystem, the market, the various players, the service roadmaps and the practical procedures for integrating a new service and getting your solution listed.

The GIE SESAM-Vitale gives you access to the Espace Industriels https://industriels.sesam-vitale.fr which provides you with all the information, service integration specifications, and any software components or sample code required to implement a new service.
Throughout your solution's design and development phase, the GIE SESAM-Vitale provides you with support for services and its expertise in Health Professionals' Information Systems.

Once your solution has been listed by the CNDA, the GIE SESAM-Vitale continues to provide assistance and support for the deployment of your solutions and the monitoring of their use.
What can the GIE SESAM-Vitale do for project leaders?
The GIE SESAM-Vitale supports eHealth manufacturers in the integration, deployment and use of the various services and standards
Topics involved
Core references
Carte Vitale app (ApCV)
National Health ID teleservices (INSi)

Core services for private-practice healthcare professionals, healthcare institutions, and social care providers
Shared Medical Record (DMP)
Secure Health Messaging Service (MSSanté)
e-Prescriptions

AMO/AMC services and teleservices for private practitioners
SESAM-Vitale billing including Telehealth
Electronic transmission of supporting documents (SCOR)
Acquisition of Patient Rights (ADRi)
Complementary third-party payment and AMC online services (IDB/CLC)
Electronic Billing Service (SEFi) Transport
Care Support (PEC+) Transport
Electronic Prescription Service (SPEi) for Transport
Reimbursement History (HRi)
Attending physician's statement (DMTi)
Information for the attending physician (IMTi)
Notice of Work Stoppage (AATi)
Long-Term Condition (ALDi)
Electronic Care Protocol (EPSi)
Accident at Work and Occupational Illness (ATMPi)

AMO/AMC services and teleservices for health care facilities
FIDES ACE and SEJOUR
Billing Private Clinics for MCO & SSR (acute care & rehabilitation)
Transmitting supporting documents for invoices from Private Clinics (SCOR CP)
Rights Consultation (CDRi)
Reimbursement of Supplemental Organisations (ROC) including AMC online services

Accessible resources (database, observatory)
Links to innovators and entrepreneurs
GIE SESAM-Vitale's management of relations with eHealth manufacturers is based on three activities:
Market watch/observatory, manufacturers, available solutions, and deployment of services for compulsory and supplemental health insurance
Communicating and consulting with manufacturers
Maintaining a support system for manufacturers to facilitate the process of taking into account the services, from the provision of documents to operational deployment.

Practical guide
Frequently asked questions about the GIE SESAM-VItale.
Who is the right person to contact?
Does the GIE SESAM-Vitale charge for its services?
Can the GIE SESAM-Vitale support my project individually?
Yes for the scope of services covered by the GIE SESAM-Vitale
5 Bd Marie et Alexandre Oyon 72100 Le Mans