Making your remote monitoring solution reimbursable
Remote monitoring is covered by the standard healthcare system.
As a publisher of a remote monitoring solution: How does this affect my solution? What should I do?
1. If currently being supported by the ETAPES program
When will my device become eligible for standard reimbursement?
The law currently provides for a changeover to standard reimbursement by July 1, 2023 at the latest.
The complexity of the legal texts required an in-depth phase of preparation and consultation, in a context of presidential and then legislative elections, which made it impossible to keep to the planned schedule. Thus, this date could shift based on when the decree is published in the Council of State.
This section will be updated soon.
A transition period between the ETAPES experiment and standard reimbursement is planned. During this transition period, your remote monitoring activity can continue to be covered as it is now.
How can I extend my funding through the ETAPES program and become eligible for standard reimbursement?
In the month after the law comes into effect, you must file a commitment to submit a registration request with the services of the Ministry of Health (MSP) at the address (dss-sd1c@sante.gouv.fr) as soon as the generics given by the ETAPES specifications are placed on the list of covered remote monitoring activities.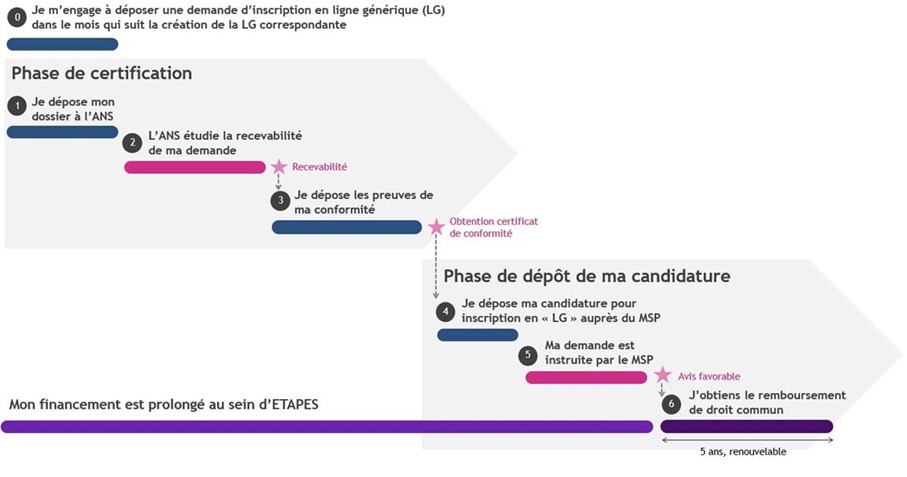 How do you apply? What evidence should you bring?
The dates and practical details for submitting your application will be clarified as soon as possible.
A guide for submitting an application specifying what evidence to provide for the HAS evaluation will soon be put online by the HAS.